The team decided to try a rally in Wales and the Plains rally based in Welshpool was the event chosen. This would see another outing for the MG ZR that Gordon bought in 2012.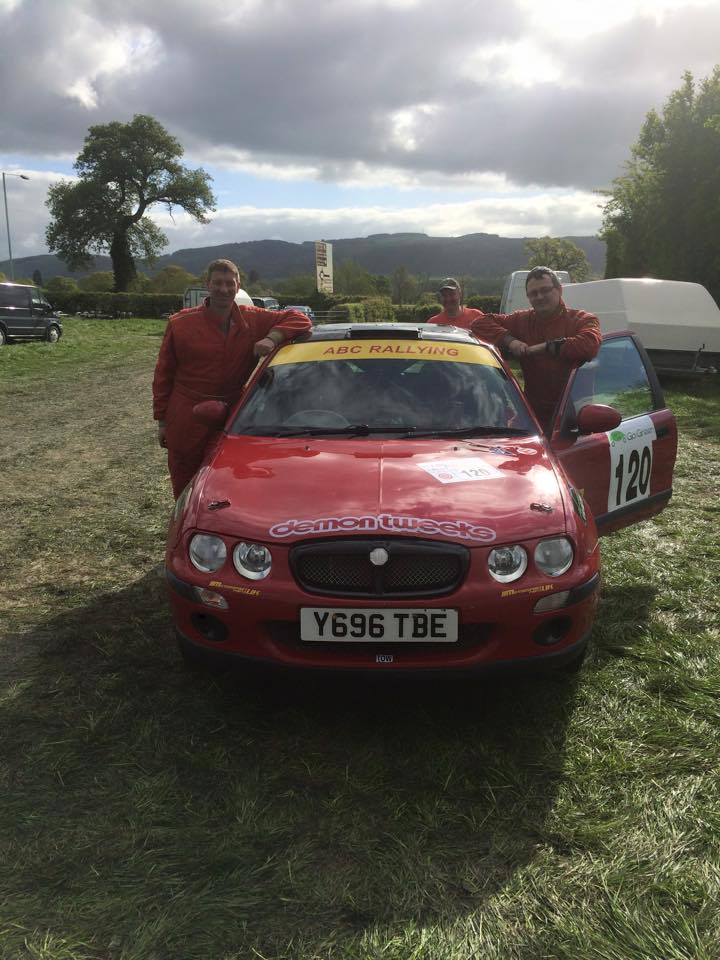 The event featured six stages.
Stage 1 was a short stage at around 2 and a half miles. It was going well and the car was handling nicely. After a mile and a half we hit a rock in the road really hard. The following corner saw us nearly go off as the car wouldn't slow down or turn in properly, it was clear that it had been badly damaged by the impact. We weren't the only ones as there was a car at the following corner with broken steering and a car off the road. We managed to limp the remain three quarters of a mile to the end of the stage. However when the damage was checked it was clear that the car wasn't going any further without some help. The passenger side front upright was completely bent and broken. The windscreen had been cracked down the middle by the impact as well.
We took the car back towards the road and the management service crew, David and Anthony. When we got there we were already OTL and out of time. They managed to get it repaired enough for us to get back to main service. When we got there Brian had managed to borrow a spare upright from another MG crew.
We managed to get the upright replaced but by this time we were out of the rally and had missed stage 2.
Stage 3 was another short stage and it took a bit of getting used to with one standard strut and one competition strut on the car. Everything went fine and there were no issues.
Stage 4 was the longest of the day and we were getting the hang of the unusual handling by now. This stage went very well setting the 99th fastest time out of around 170 cars.
Back to main service again and we made some adjustments to the motorsport strut lowering it and softening it to make it handle similar to the standard one.
Stage 5 was unfortunately cancelled so we were rerouted straight to the last stage.
Stage 6 was a rerun of stage 2 which was the one we had missed in the morning. Again everything went well with a good clean run to the end.
It was unfortunate to break the suspension so early in the event but at least we got the milage in and had a good day in the stages. Studying the stage times later revealed that we would probably have been second in class by about a minute if we hadn't missed stage 2.