Gordon has purchased another Nova to replace the MG ZR.  Its a 1600 16 valve in white, very similar to the old Nova.  The first outing was the Woodpecker Stages based in Ludlow.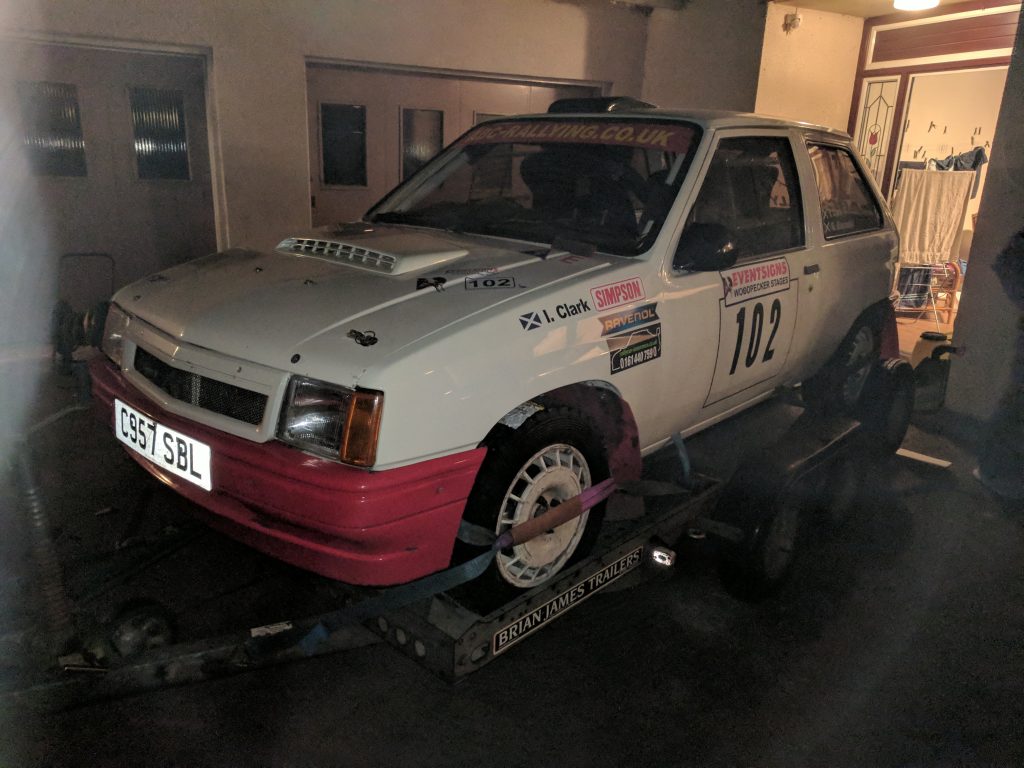 Being a new car there were a few teething troubles in the week leading up to the event when the power steering broke giving Gordon a few late nights getting it resolved.
However Saturday morning came and we set off towards the first stage.  All was not well however as the brakes started binding on and the car was struggling to make progress on the road section.  When we arrived at the stage there was some time available and fortunately we were able to loosen the brakes off.  However the brake balance was all wrong which made the first 2 stages very interesting as the handling wasn't very predictable.
Service was next and some adjustments were made to the brakes to try and improve things.  Sadly though the brake binding problem re-occurred on the next road section and the car came to a halt in a lay-by.  Repairs were made but unfortunately it took too long and the team and gone OTL and were out of the results before we made it to the start of stage 3.
We continued on to get more time in the car and the next 2 stages went well enough with the main problem being dust from the cars in front. Because we were late we were running in among the slower cars right at the back of the field.
Back to service and then out again for the last 2 stages.
Stage 5 was a short stage and went fine.  Stage 6 was the last of the day and fairly long. We booked in a few minutes late to give us a good gap to the car in front so we wouldn't get caught in the dust. The stage went well although it showed that there wasn't much grip left in the tyres and that there were a few handling problems that would need to be looked at.
We got to the end and covered the route but weren't classified because we went over the total amount of lateness that was permitted when we had the problem heading to stage 3.
Overall it was a good day out and great to back out in a Nova in the forest.
Thanks to Brian and David for their help and service and to Simon and his brother for doing the management service.