Team wins the Scottish 1300 Championship and Class 2 in the Scottish Championship
The team won the scottish 1300 championship and class 2 in the Scottish Championship in 2002 & 2003.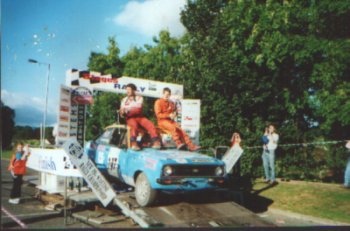 2002 saw a closely contested championship with the team getting off to a slow start recording poor results in the first two events. The next event saw the team taking thier first ever class win in a Scottish Championship event. The next couple of events were part of the overall Scottish Championship but not the 1300 Championship. Another class win and a non finish from those 2 events helped the points score in class 2.
With 3 events to go the points were very close. The third last round saw our two main rivals post a non finish while we survived a slight off to finish second. The second place was enough for Ian to win class 2 in the co-drivers championship but Gordon still had a bit of work to do.
The second last event was in Elgin and it was possible to take the 1300 championship if results went the right way. The team took an early lead but then news came through that one of our rivals had gone off and was out of the event. This meant that second place was enough to seal the title so we backed off and took no risks to get to the end of the event and claim the points we needed. The only scare was a burst fuel tank which we didn't notice until we reached the finish line. Gordon also clinched class 2 in the driver's championship with the second place to match Ian's award won at the previous round.
With the 1300 championship done and dusted the team decided to take out the old mk2 Escort that the team had bought to do a few non-championship rounds. After some early problems with brakes and punctures the team recorded a couple of quick times over the last two stages to end the season on a high.



2003 started a lot better than the previous campaign with the team taking class wins on the first three events. The next event went badly with brake problems all day meaning we finished last in class. That was followed by another win. The next event was a bit of a disaster when we rolled the car heavily after about 6 miles. There then followed a race against time to get the car fixed for the following event only a fortnight after the accident.
The hard work was worth it as another class win was the reward from the following event. This left the team needing a result in Elgin to clinch the championship just like the previous year. The day went well with the team taking a commanding lead during the event. Unfortunately electrical problems half way through dropped us about 11 minutes and any chance of a good result. We were able to get the car going again and finished fourth in class which was enough to win the championship and class two like the previous year.
The last event was going to be the car's last outing so we went out to try and finish as high as possible. After a great run with a very close battle in the class (we were half a second down at the half way stage) we were able to finish the season with another class win and a fantastic 14th overall.

More information on the Scottish Championship can be found at the championship website www.scottishrallychampionship.co.uk


Printer friendly page