Solway Coast Rally - Sunday 31st October 1999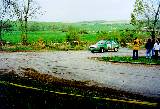 This was the first event for the team. The rally started in Kirkcudbright in the South West of Scotland. There were 15 stages giving a total of around 24 miles of competitive driving. Twelve of the stages were held on military ranges which have an abrasive concrete surface which is quite different to driving on anything else. The remaining three stages were held on loose surface roads.

The day went very well with one or two dramas along the way. The scariest moment was on stage 6 when the car went into a slide at around 80mph. It then went sideways along the road for about 60 yards stoppping in clouds of tyre smoke. There was no harm done however and a quick three point turn and we were on our way again.


The day ended with the crew finishing as the last classified finishers but 20th overall and 3rd in class was an excellent result for our first outing in the car.


Printer friendly page