Mull Gravel Sprint - Saturday 21st July 2001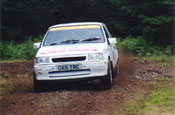 With the foot and mouth crisis this was the first time the car had been out in the forest this year.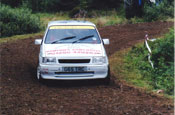 This event was run to sprint regulations which means that no co-drivers are allowed. You were allowed to double enter the car so both Ian and Gordon were competing. The course was a two mile gravel stage just next to the Fishnish ferry terminal. All crews took part in a convoy run before the start to give everyone a chance to see the course. As the event was run like a sprint only your fastest time of the day counted towards the result. Everything else was more like a rally with the use of timecards, timing by stopwatch and all signs on the stage were as per a stage rally.


It had been around 9 years since the stage had seen a rally car and as a result the first couple of runs were very slippy. After the four wheel drive machines had been over the course a couple times it quickly cleaned up leading to faster times. Gordon had a very good day finishing first in class while Ian finished third.




Printer friendly page