Park Systems Rally - Saturday 6th October 2001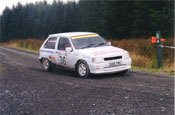 The rally started in Newton Stewart with all of the forestry milage taking place in Glentrool. Unfortunately, heavy rain the night before left some of the forest under four feet of water leaving the organisers with no choice but to alter the route slightly.
The rally consisted of three speacial stages lasting 9, 5 and 15 miles.
Stage one went well with no problems.

Stage two had been shortened because of the flooding. The crew suffered from a slow puncture on this stage with the right front tyre being almost flat at the end of the stage.

We were then allowed to return to Newton Stewart to the service halt. This allowed allowed us to fix any problems with the car, change tyres and refuel.

Stage three was a re-run of stages one and two joined together. The 15 miles were completed in 17 minutes and 26 seconds with speeds in excess of 100mph.

There were no problems on the final stage and the day ended with 2nd in class and 21st overall making it the best result so far for the crew.


Printer friendly page