Argyll Rally - Saturday 20th April 2002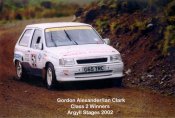 The lead up to this event was again very smooth with no damage being sustained on the Border Counties the month previously.

The rally consisted of 7 stages all of which were fairly close to Dunoon. Stage 1 was very rough with a lot of ruts. The car wasn't running particualrly well with the engine refusing to rev above 4500 for the first two or three miles. It then cleared itself and ran perfectly for the rest of the day. Stage 1 had left us quite a bit off the pace of the class leaders. Stage 2 was in perfect condition and was very fast with lots of long straights and open corners. We had a decent run through here but still found ourselves off the pace of the class leader.
Stage 3 went well with no problems and we set a better time only a second slower than the class leader. We then set off to the first service halt of the day and the only thing that needed fixed was the air horn which had stopped working on the way to the first stage.

We then moved onto stage 4 which was the same stage as the one where we had crashed the green Nova two years earlier. It was run in the opposite direction to when we had our accident and it didn't affect our concentration any as we set another fastest time to reclaim another 14 seconds from the leader. Back to the service halt and again nothing much for the service crew to do as the car was running fine.

Stage 5 was run in the same forest as stage 1 and used some of the same roads. It was very rough but we had a steady run to the end with no problems. On to stage 6 and we didn't know how far behind the class leader we were. It all didn't matter as about a mile or two into the stage the class leader was off in a ditch with no chance of getting out. We then backed off to make a very steady run through the stage.

Only the seventh and last stage to go. It was a 10 mile stage and we didn't take any chances through the stage recording a reasonable time to give us our first class win on a Scottish Championship event and a respectable 37th overall.






Printer friendly page