Solway Coast Rally - Sunday 8th September 2002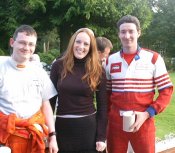 This rally consisted of 16 stages. The first 6 were held on Ministry of Defence tank ranges, the next four on loose surface farm roads and forest and the last 6 were back on the tank ranges.

The first stage went well setting a good time while getting used to the car as this was the first time we had taken the Nova on a tarmac rally. We had a bit of a moment on stage 2 when we braked too late for one of the man made chicanes and hit it quite heavily while spinning through 360 degrees. There was no major damage done though and we were able to continue having lost around 30 seconds.

Stages 4, 5, & 6 were a rerun of the first three stages. Stage 4 went well but then on the road section to stage 5 there was a very heavy shower of rain which made stages 5 and 6 very treacherous so we had to be very careful through these two stages.

The next four stages were on loose surfaces and the car was handling well on the gravel. Stage 8 was in a forest which hadn't been used for a while so it was quite slippy but good fun none the less.

We then came back to the tank ranges for the last six stages. They were run the opposite way from in the morning and this time we had no problems negotiating any of the chicanes.

We finished 1st in class and 12th overall.






Printer friendly page