Jim Clark Rally - Saturday/Sunday 5th/6th July 2003
The Jim Clark Rally is the only tarmac rally in the New Pig Scottish Rally Championship. It is based in Duns in the Scottish Borders. The weather was very wet with a steady drizzle falling all day making the roads very slippy.

Stage 1 was at the Langton stage which has a ford just after the start. When the car hit the water the engine just spluttered and died. It fired up first time and only a few seconds were lost.

The second stage was where it all came to an end. About four miles in we were caught out by some standing water in the braking zone for a tight right hander. The approach had been quite fast and when Gordon touched the brakes the car aquaplaned onto the grass verge after which it went out of control. It hit a bump at the end of the verge which launched it into the air, it then rolled twice and landed in a field on the drivers side. Some spectators pushed it onto its wheels. The car was still driving but unfortunately the back axle was too badly damaged and we had to retire.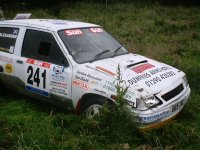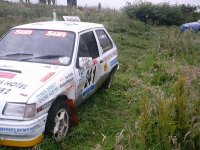 Printer friendly page