Scottish Rally - Sunday 13th June 2004
The Scottish Rally was based once again in Dumfries and consisted of five stages.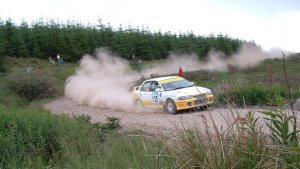 Stage 1 started well and there were no real problems until we started to get caught in the dust of the car in front after about 6 miles. Shortly after that we passed the car after it had stopped to change a puncture. Another half a mile or so and the engine started to misfire and the car wouldn't accelarate properly. There was about 6 miles still to go but we kept running hoping that we could get to the end of the stage. About two miles from the end the engine stopped and we had to pull over. There was nothing obvious when we stopped so we changed to the backup engine management and checked for any loose wires and hoses. With nothing more to try we got back into the car and tried to resart it. The engine started but it was still misfiring quite badly. We were able to get to the end of the stage without any further mishaps.
The engine cut out twice more on the road section back to Dumfries but each time after a few minutes it started and we were able to continue. The next stage was a short run through a gravel road in Dumfries itself. This passed without any more problems and we were able to through it and go to the first service halt.
The only indication of the problem was that the fuel pressure guage was very eratic when the engine was under load. The desicion was taken to fit the spare fuel pump to the car in the hope that it would fix the problem. This was done but unfortunately it took longer than the 20 minutes allowed and the team picked up 40 seconds of time penalties for being late out of the service area.
Stages 3 and 4 were next before returning to the service area. Stage 3 was only five miles long but the car ran smoothly through the stage without any signs of the earlier problem. On the first stage the problem only showed up after about 7 miles so the team weren't sure that it had been fixed.
Stage 4 was about 11 miles and again the car ran very smoothly. The team set the 17th fastest time through the stage which was a good indication that the problem had gone away.
Next was another service halt and all that was needed was a quick check over.
The last stage of the day was a rerun of the first and the team were hoping for a better run through this time. Everything went well and 16th fastest on the stage was a decent end to the day following the earlier disappointments.
The team finished 29th overall and 9th in class.


Thanks to John Frew for the photo.


Printer friendly page