Kames Trophy - Sunday 30th July 2006

The Kames Trophy Rally was based at Kames in Muirkirk and used various gravel stages around the surrounding countryside.

The day started well with the crew taking a slender 2 second lead after the first 3 stages. The team then had a problem on stage 4. Just a few corners from the end the engine lost all of its water which came out as steam covering the windscreen and causing a scary moment as the car was on a high speed straight just before a corner. The car limped to the end of the stage but it didn't look too good.
The team made it back to service where a broken radiator was diagnosed. There wasn't time to fix it properly so a temporary repair was made to get through the next 3 stages before the main service halt.

The next few stages were completed without too many problems and this let Sam and Brian get to work on changing the radiator.
Unfortunately the spare radiotor was a bit damaged and the car was overheating on the longer stages. On stage 9 the engine shut down because it was too hot and the team lost another 20 seconds.
At the half way point the team were thirty seconds down but the afternoon stages would be short enough that the overheating shouldn't cause any more problems.

During the afternoon the team set steady times while the halfway leader was suffering electrical problems and was dropping back. By stage 15 the team were back in front and were able to keep in front over the last three stages to take their first overall win on a rally.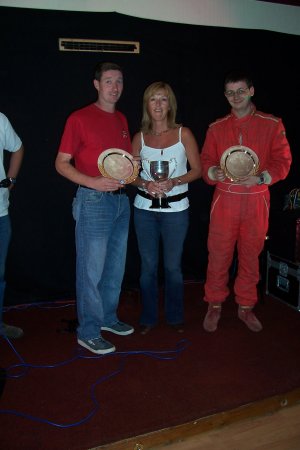 The team collecting their prizes from event sponsor Moira Barr


Printer friendly page