Galloway Hills Rally - Sunday 1st December 2002
After such a successful season the team had decided not to contest the Galloway Hills and to prepare the car for the following season. By the time "The Hills" came round the work to the car hadn't quite started so we accepted the offer to run as course car and open the event. Ian was acting as Deputy Clerk of the Course on the event in order to gain a bit more experience in the organisational side of rallying so Gordon would need a different navigator for the day. As a thank you to Sam for his hard work in looking after the car throughout the year we offered him the chance to navigate in a forest rally. He jumped at the chance and got practising with a set of notes from last years event.

The event consisted of five stages around the host town of Castle Douglas. The first stage went reasonably well with no major problems. With it being Sam's first time in the co-drivers seat it took a bit of time to get comfortable with the pace notes but he did well on his introduction to stage rallying. Stage 2 started OK but only a mile in the car went off into a ditch and was stuck fast. Fortunately stage 2 was one of the ones that Ian was looking after and Gordon was able to phone him and let him know what had happened. The clerk of the course Ian Gemmell was at the start of the stage and was able to go in and recover the car. Fortunately there was no damage and it was able to continue without any problems.

The rest of day passed fairly smoothly and there were no further mishaps. Sam really enjoyed the time in the car and although in no hurry to repeat the experience he wouldn't have missed it for the world.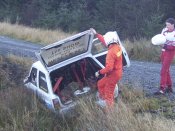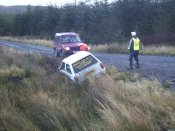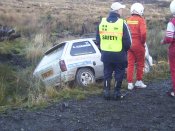 Thanks to John Frew for providing the photographs of the mishap on stage 2.


Printer friendly page