The Team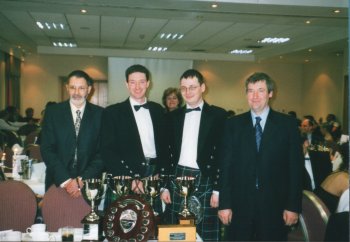 The team at the Scottish Rally Championship prizegiving evening November 2003.
From left to right, Sam Black, Gordon Alexander, Ian Clark & Brian Alexander
Thanks to Donna Alexander for the photo.
---

Gordon is a farm manager who started rallying in 1999 after an interest in the sport for the previous 10 years. 1999 was Gordon's first time at competing in motorsport although he has now tried rallying (driving and co-driving), sprinting, autotests and grasstests.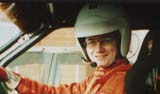 Ian is a software engineer who started rallying at the same time as Gordon having also followed the sport for years previously. Since starting in 1999 Ian has tried driving on a rally, some sprinting and a bit of autotesting. Ian is also responsible for the team website and the Kames Trophy Rally website.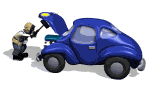 Sam is an hydraulics engineer who has a love of all things mechanical. Sam has helped Gordon with the servicing and maintenance of his road cars for years so when we asked if he would like to join us with the rally car project he was more than happy to do so. As well as servicing the rally car, Sam also does a bit of sprinting and grass testing.
Brian Alexander
Brian is Gordon's brother and he helps Sam with the servicing duties on all of the events.
Printer friendly page